Hubert Ebner India Pvt. Ltd. (HE India) is an Indo Austria venture working diligently on developing the driving skills in India for the past 19 years through rich training modules and methods along with a plethora of products and services on Road Safety Management as Pioneers of Road Safety in India.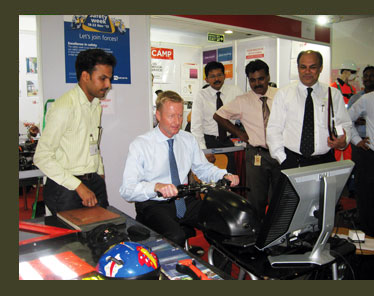 Our principals in Austria have proven their expertise in the said field for over three decades in creating and conducting road safety programs successfully. They are pioneers in the development of interactive and net-based learning systems as well as a full-scale graduate course. They work in close tandem with the Austrian Government and are market leaders in Austria and Germany.
HE India is instrumental in providing unique management systems like Driver Management Centre, Journey Risk Assessment, Traffic Management System and various other assessment and monitoring methods. HE India is proud to be the sole distributors of the P-Drive which is a state-of-the-art equipment to assess the drivers behind the wheel which is now being procured by state agencies including Delhi Police & RTO Namakkal.
HE India today has 44 different modules of training ranging from Pedestrian Safety to Specialised Vehicles which makes it the front runner in the industry with such a vast gamut of Trainings to offer.
Thus with the kind of expertise and knowledge that we possess, we can significantly contribute to curtail this menace by kindling the 'light' of awareness and fuel the mechanism that would sustain road safety norms in a nation that is gripped with hapless situations of succumbing to innumerable road accidents.
Our mission
"HUBERT EBNER INDIA PVT. LTD. IS AMBITIOUSLY DETERMINED TO BRING ROAD SAFETY EDUCATION TO THE STREETS OF INDIA IN THE NEXT THREE YEARS THROUGH ITS OWN PRODUCTS AND SERVICES AND ITS ENLIGHTENED PARTNERS".