The Elephant is fighting a tough battle for survival. In India, an estimated 26,000 elephants survive in the wild. Rapid habitat destruction and conflicts with humans are serious issues. The established corridors are fragmented and not enough to sustain the elephant populations.
Today loss of habitat is one of the main concerns as this leads to a high rate of human-elephant conflict. Elephants come out of the forests in search of food or water and come in contact with human settlements. Most of the times this confrontation has a negative outcome as it results in loss of life or property for local communities. The elephants otherwise revered in Hindu mythology suddenly become destroyers and the target of villagers' anger.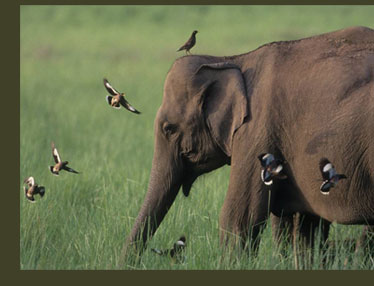 Chattisgarh has been attracting migratory elephant herds displaced from neighboring States of Jharkhand and Orissa due to massive mining and deforestation. Elephants come out of forests in search of food and water but in the absence of established corridors they invariably end up in agricultural fields where farmers crops are destroyed. The only way to sustain them inside the forests is to recreate their habitat, namely water bodies and fodder and join the fragmented forests to re-establish their corridors.
For the first time, in a mammoth effort to save the elephants from extinction, the Chhattisgarh Government in partnership with Earth Matters Foundation has taken the initiative for a unique solution to safeguard the elephants. Taking shape in Bilaspur, Korba and Surguja districts of Chhattisgarh, this project will be a milestone and a role model for conservation elsewhere in India and the world.